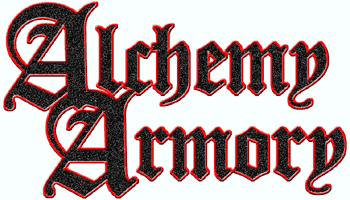 Ordering
Alchemy Armory accepts personal checks, cashiers / certified checks, and International money orders. Please allow 2-4 weeks for personal checks to clear the bank. For faster service, use cashiers / certified checks, or International money orders. All money orders must be cashable in Canada, some US money orders are not. If the money order says "Negotiable only in the U.S. and Possessions", then it cannot be cashed in Canada, and I'll have to send it back. Shipping charges for continental US and Canada are 20% of the total for all orders under $500 US / Cdn, and 15% of the total for orders over $500 US / Cdn. Minimum shipping charge is $20. For shipping to other areas, please ask. Shipping to continental US and Canada usually takes between 10 and 14 days. But please note: I'm often booked for a while in advance. To find out my current waiting list time, please check my NEWS page.
All checks and money orders must be made out to Dale Roberts.
Please send a hard copy of your total order, including measurements, with payment, to:
Dale Roberts
Alchemy Armory
3629 Old Sambro Road
Sambro, Nova Scotia
Canada
B3V-1E9
Please include the following information when ordering armor.
Email address:
Mailing address:

All Orders:
Gender:__________ Height:__________ Weight:__________
Gorget:
Circumference of neck:__________
Pauldrons:
Circumference of flexed biceps:__________
Arms:
Pivot of elbow to point of shoulders:__________ Pivot of elbow to pivot of wrist:__________
Circumference of; wrist:__________ forearm:__________ elbow:__________ and flexed bicep:__________
Gauntlets:
Circumference of cuff (smallest circle you can fit your hand through):__________
Include tracing of hand, for both half and full gauntlet.
Torso:
Collarbone to bellybutton:__________
Circumference of,
Chest:__________ Neck:__________ and Waist:__________
(For women only: cup size__________ Circumference of ribcage:__________)

Legs:
Pivot of knee to hip joint:__________ Pivot of knee to pivot of ankle:__________
Circumference of;
Thigh:__________ Knee:__________ Calf (at widest point):__________